OUT NOW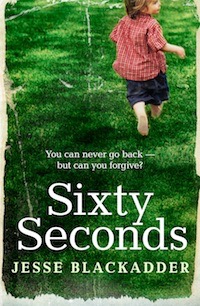 The Brennans - parents Finn and Bridget, and their sons, Jarrah and Toby - have made a sea change, shifting from chilly Hobart to a sprawling purple weatherboard in subtropical Murwillumbah. Feeling like foreigners in this land of sun and surf, they are only just starting to settle when, one morning, tragedy strikes - changing their lives forever. 
Determined to protect his wife, Finn finds himself under the police and media spotlight. Guilty and enraged, Bridget spends her nights hunting answers in the last place imaginable. Jarrah - his innocence lost - is propelled suddenly from his teens into frightening adulthood. 
As all three are pushed to the limit, questions fly: Who is to blame? And what does it take to forgive? 
A haunting and ultimately redemptive story about forgiveness and hope. 
Come to one of the book launches.
ORder Sixty Seconds NOW on Booktopia
Find out what readers said on Goodreads
EARLY PRAISE FOR SIXTY SECONDS
'This achingly beautiful novel broke my heart. And then put it back together.' - Wendy James, author of The Golden Child. 
'A beautiful work. One of the most moving and artistically satisfying endings I've read in a long while.' - Susan Johnson, author of My Hundred Lovers and The Landing. 
'A novel that will get into your bones - captivating, heartbreaking and immensely beautiful.' - Eliza Henry-Jones, author of In the Quiet and Ache.